StyleKid: Extra 25% Off Sale Section Coupon Code
StyleKid is a canadian online shop (go Canada!) that has stuff for (you got it) kids! They are offering a nice little coupon for an extra 25% off their sale section.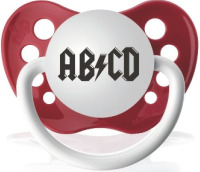 Coupon Code: SUM25
Discount: 25% off sale
Expires: July 21, midnight PST
They offer free shipping on orders of $150 or more.
While exploring their sale section I immediately fell in love at first sight with this AB/CD Binky (pictured). I started going through my list of friends who just had babies and would appreciate the dedication to one of the greatest rock bands ever! My last concert was an AC/DC concert. :-D LOVE IT!
I also found several adorable tutus on sale, and it made me wonder why a kid's tutu (up to 10 years) can cost like $7 but you rarely see an adult's tutu, and if you do they are like over $100? It really isn't THAT much more fabric!! We are big kids too! I wouldn't mind a Multilayer Tulle Tutu in Zebra if it came in my size! Isn't it cute?