Sears Canada: Plush Spring Horse Only $104 (Was $130)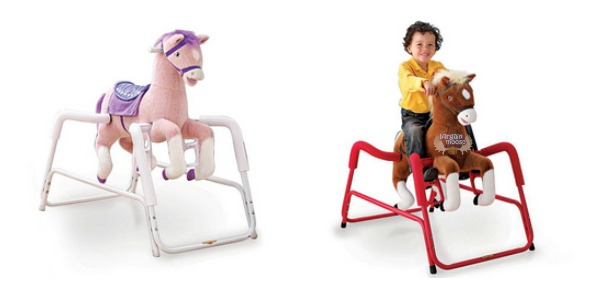 Get a plush spring horse for only $103.99, was $129.99 and your toddler will think he/she has won the lottery this Christmas.
I had one of these spring horses as a child and I remember it very fondly. I do remember the fights with my brother over it, but I can still remember the details of that brown beauty. I'm pretty sure mine was not plush, but that I loved it so much anyway. I had to write this blog post so your child can love a horse as much as I did, even if its a plush spring horse.
There are two styles, one is Rocket, who is brown and white, the other is Alexa, who is pink and purple. Both have three-position stirrups, easy-grip handles and a detailed colourful saddle. Rocket and Alexa will last through the years with a sturdy frame and durable spring covers. It gives the age as 2+, but I'm going to say any walker could use this with help from Mom or Dad and it goes up to 65 pounds, which means my eight-year-old son could still use it.
It looks like shipping is free on this item as I wasn't charged anything extra at checkout.
(Expiry: 15th December 2013)