Please Mum Canada Kids Clothes: $25 Discount Off $100 In Store!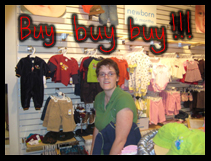 This is an in-store offer from Please Mum Kids Clothing store. For a limited time, if you spend $100, they are offering a $25 discount on that! The email doesn't give a closing date for the promo, so if you're interested, I'd head in store as soon as possible. If you want to make sure you get the offer, I've saved a pdf of the email and you can print it out from here if you wish.
Hopefully it will work on their clearance items too.
They have some great clothes for kids in store, I'm considering stocking up on some outfits for the kids in my family. I have quite a few nieces and nephews, and when it comes to buying Christmas presents for them all, it can add up to quite a bit! So, every discount is really appreciated.
If you have a lot of old childrens clothing, but it's in good condition, I'd recommend selling it on ebay. My sister had tons and tons of very good quality clothing, from when my nephew was growing up. It was all from various good named brands, such as Gymboree, please Mum, Robeez. They grow up so fast, so there isn't much of a chance to show wear and tear on some pieces.
Here's what she did – she put various outfits into bundles, and sold them as "lots" on ebay. The photos she took looked really well, and helped to sell the kids apparel. She was able to make a bit of extra cash to go and spend on more children's clothing for when my nephew was older!
Thank you for the image alaskamama.