Please Mum Canada: Girl's Swimwear Only $10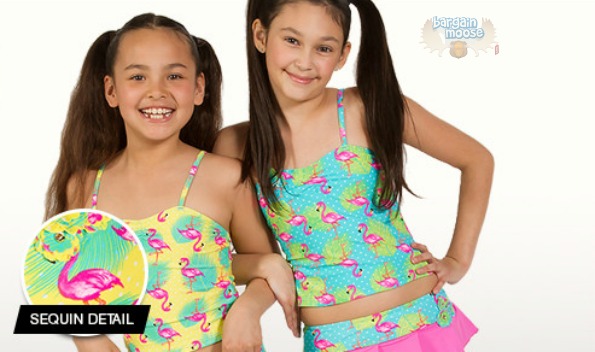 Splash pads and pool parties, oh my! Your daughter's summer might be packed with wet wonderfulness, and she might not have the clothes to support it. Good thing Please Mum has girl's swimwear on for 50% off, with prices starting as low as $9.98. They also have a coupon out where you can get an additional 20% off your purchase over $75. This could mean big savings for Mom and Dad, with a happy smile on her face.
What's really awesome about these bathing suits is that they are chlorine resistant, which means the colour won't fade, even after repeated wearings to the pool. I actually had a bathing suit (my favourite one too!) get bleached out in a pool. The whole thing was totally ruined and turned from a gorgeous charcoal to a beige. This won't happen here, saving a few tears I'm sure. They are also UV protectant with an SPF of 50+, which is very nice.
There are a few one and two piece styles of bathing suits at Please Mum, but I'm so loving the flamingo pattern on the Flamingo Spirit line. There are different styles of tops, but the tankini is really cute. It was originally $19.95 and now only $9.98. Pair it with the matching bikini skirt, which is only $13.48, was $26.95. This piece is great because you can mix and match it with other swimwear pieces, like solid blacks or pinks.
If a one-piece is more her style, then you'll only spend $14.98 for the entire bathing suit, which really is a steal and if you are budget-friendly, makes a more cost-effective solution to swimwear over the two-piece.
Boy's swimwear is also 50% off, starting at $14.98 for rashguards and board shorts.
If you are using the coupon code to save 20% off, you'll also be saving on the shipping costs, which means that you should really shop your heart out and save so much more money.
(Expiry: Unknown)