Please Mum Canada: Discount Coupons For Kids Clothes
If you're planning on spending a few dollars on kids clothing for Christmas, here are some great coupon codes which you can use online @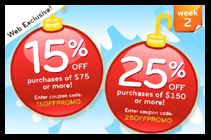 | | |
| --- | --- |
| Coupon Code: | 25OFFPROMO |
| Discount: | 25% off $150+ |
| | |
| Coupon Code: | HOLIDAYPM9 |
| Discount: | 20% off $125+ |
| | |
| Coupon Code: | 15OFFPROMO |
| Discount: | 15% off $75+ |
I have no idea on the expiry of any of these coupon codes. It does say "limited time" on the PleaseMum.com website, but I really don't know how long they mean!
I was searching for some baby clothing for a friend, and spotted the promo codes on their front page. There is also the option to have your children's clothing wrapped in a "Bucky Bag"... whatever that is?! It looks like nice gift wrapping. It appears to cost $3.50, which isn't too bad.
You get free Canadian shipping on a $100 spend, otherwise it's a flat rate of only $5.95. Good opportunity for some clothing bargains!