Playandlearntoys.ca Coupon Code

With this exclusive Playandlearntoys.ca coupon code, you can save a brilliant 20% discount on your order there!
Click here to use Playandlearntoys coupon code
Coupon Code: BARGAINMOOSE
Discount: 20% off
Expires: 30th September 2010
Playandlearntoys.ca is based out of Alberta, so it's a Canadian store.
When I mentioned them before in the previous playandlearntoys.ca coupon code post, I told you guys that I liked some of their lovely wooden toys such as this rainbow bead abacus for $19.99, I think it's very cute. They even have hand-made woolen toys, like these scrummy cupcakes for $31.99.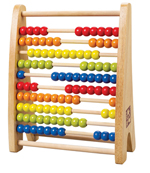 When I was young, I really liked the kind of toys they have in their memory and matching category, such as the animal memory game for $14.99. My little baby is only 3 months old, but I just cannot wait to play this kind of thing with her! But I've got years to go before that can happen...