PJ Masks Toys Are Here! Get Yours From $8.99 @ToysRus.ca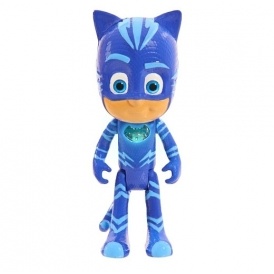 The wait has been long for my children, but it is finally over! PJ Masks toys have just landed at Toysrus.ca. The gang is all there including Cat Boy, Owlette and Gekko light-up figurines for $8.99. And just in time for Halloween, there are new plastic play masks and costumes available for each character. Play masks retail for $14.99 and costume sets which include full-body suits and fabric masks cost $29.99.
Click here too check out all available PJ Masks toys at Toysrus.ca.
This is the first round of PJ Masks toys to hit the market. But it sounds like we can expect a variety of action figures and stuffies before Christmas. I am especially excited about the vehicles. I bet my kids can't wait to race Catboy's Cat-Car, Owlette's Owl-glider and Gekko's Gekko-mobile across the floor.
These toys are exclusively available at Toysrus and are sure to sell out soon. Some are already out of stock in the US.
"It's time to be a hero!"