Parents Canada Voucher: Crayon Roll Or Book Combo @ Oh Sew Baby, $8 Including Tax & Shipping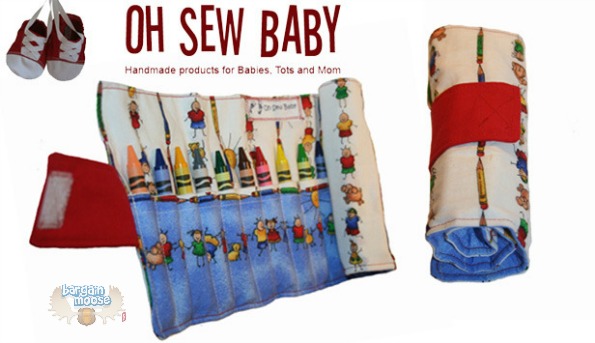 Parents Canada has a voucher available for your choice of a Crayon Roll, or Book Combo at Oh Sew Baby.  The voucher is $8 and tax and shipping are included.  You may purchase 3 vouchers for yourself and gift use.  Crayons are not included and voucher cannot be combined with any other offer.
Now you can always have crayons available for your youngster when you find yourself waiting too long in the doctors office or anywhere kid's don't' like to sit still. 
The Crayon Rolls are regularly $12.50 and come in 18 different prints of fabric.  Some are even round instead of rectangular. The rolls are compact and fit easily into a purse or diaper bag.  Each one holds 15 crayons and measures approximately 1.5" in diameter when rolled up.  Most of these selections are made to order and any special requests can be made at checkout.
The Crayon Book holds 5 crayons, 1 notepad and will also roll up to fit easily into a purse of diaper bag.  These are also made to order.
Shipping: Included in price and ships Canada Post
(Expiry: 2nd September 2012)