Parents Canada: $44 + Shipping For Swing Car from Active Play Toys & Games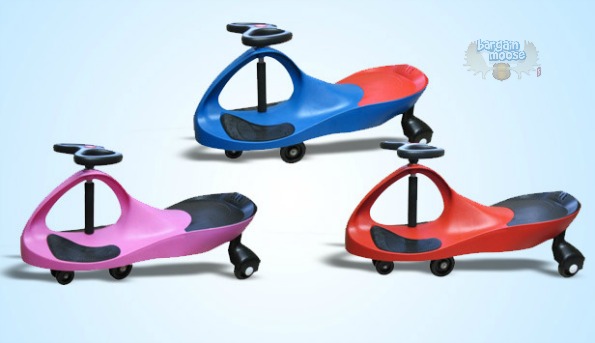 Parents Canada is offering swing cars for just $44 from Active Play Toys And Games.  These are a $65 value.  You may purchase as many vouchers as you wish.  Colour will be selected at checkout and taxes are included.  Vouchers cannot be combined with any other offers and no redemption is necessary, just fill out shipping address and Swing car will be shipped to your home.
The swing car is made of a high quality PP and ABS plastic making it safe for kids as well as light and durable.  The Twist car uses centrifugal force acting on gravity to produce self propulsion and operates with body motions instead of batteries or a motor.
This is a great item for children to develop coordination, strengthen upper body and core muscles and learn how to operate it.  The faster your body moves, the faster the Swingcar will travel.  It's for ages 3 and up, safe for up to 100 kg on smooth surfaces and up to 55kg on rough surfaces.  This is awesome for both indoors and outdoors and a wonderful change from cartoons and video games.
The Swingcar is available in blue, pink or red and will be a great thing for my granddaughter who is coming up to 3 years of age and extremely active.
Shipping: $10 per car.
(Expiry: 21st November 2012)