Parents Canada: $32 Voucher For a Foldable Kids Play Tent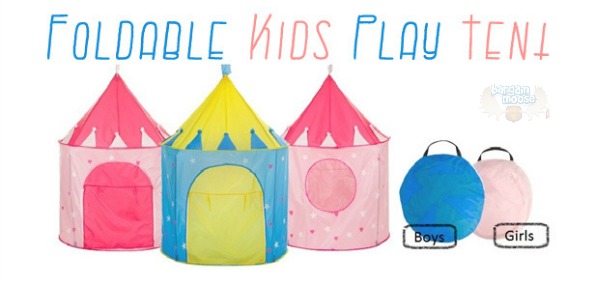 Parents Canada has $32 vouchers for a foldable kids play tent from The Daily Depot (a $119 value).  There are choices for boys or girls and you may purchase an unlimited amount of vouchers.  This cannot be combined with any other offers and no redemption necessary, just provide shipping info at checkout.
I truly would've loved these when my sons were little. I remember many times of throwing sheets and blankets over furniture just to make a little tent for them to play in.  It was great for them, but quite the hassle for me as the sheet would have to be attached to something securely or you were forever reassembling the tent.  If any of you have children that easily get bored on a day they can't go out, or you have a lot to do, try a tent, give them a little picnic lunch and you'll have a couple hours of peace and quiet.
These tents that Parents Canada is offering come in either pink or blue depending on whether it's for a boy or a girl and they come in a portable easy to carry case that folds easily into the closet.  The tent is a high quality texture and needs to be for the beating it will take from children.  The best feature is assembly, it is ready in minutes and you don't have to rearrange the furniture.
Be sure to visit our Parents Canada coupon page for the latest promo code giving you $3 off any purchase.
Shipping: $10
(Expiry: 19th February 2013)