Parents Canada: $25 for 2 Personalized Books from Put Me In Print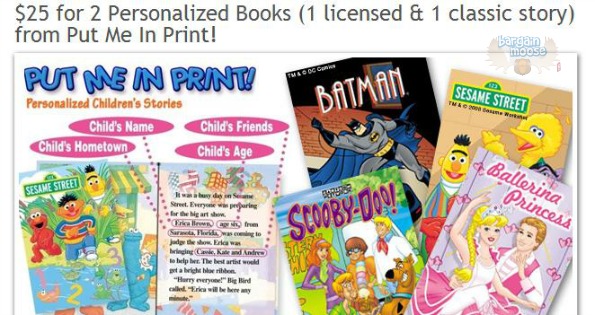 Parents Canada has a great deal on right now.  Get 2 personalized books from Put Me In Print for just $25. This offer is available for a limited time only.
Here is the fine print for this deal:
May purchase up to 2 vouchers for self use and 2 as gifts
Voucher is restricted to one licensed and one classic story personalized book
Shipping is not included ($3.50), purchasing an additional book increases shipping to $6, purchasing an additional 2 books results in free shipping
Vouchers expire 6 months from date of issue
These books are custom made, making your child the star of the story.  Each hard cover book is in full color and beautifully illustrated.  To redeem your book, print and fill out this order form and email it to [email protected] Once received, an invoice from Paypal will be sent requesting payment for shipping (and any costs for additional books purchased).

Your child has the chance to fight bad guys alongside Batman, or be a princess like Cinderella.  My kids have a couple of them, and they love having them read to them because they are the stars of the story.
This type of thing makes an excellent Christmas gift for a little girl or a boy.  If you are buying this deal for a Christmas gift, orders must be placed by November 30, 2012 for delivery before December 24, 2012.
(Expiry: 7th October 2012)