Parents Canada: $12 For a Knot Genie Detangling Hairbrush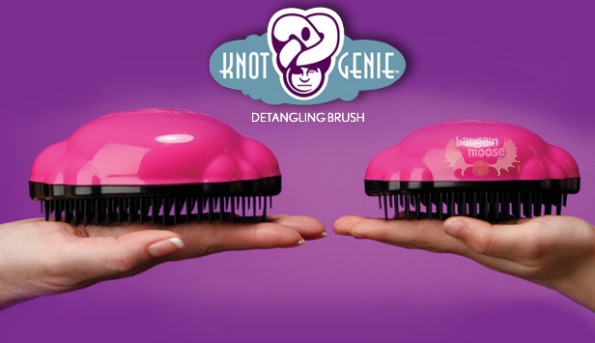 Parents Canada has a deal on right now for a Knot Genie detangling hairbrush for only $12, regularly $20.
Although I have three boys, I can really relate to this product being a very important household with girls. As a girl growing up, I had long, fine, very knotted hair. I would scream and cry and hide when it was time to brush my hair. That was until that fateful day my mom had said it was enough and took me to the hairdresser, who then ripped the stuffing out of my hair to get the knots out and then cut it all off. I was devastated, but probably relieved, and my mom was definitely relieved. But, long hair is so cute on little girls and if I had a daughter I know I'd put her and I through the pain of brushing her knots out.
With the Knot Genie, parents don't have to go through the ringer doing basic hygiene on their child. There is a product that helps! Seen on the NBC Today Show, this product is a supposed miracle worker.  It has a unique bristle configuration that slides right through hair, even curly hair. It prevents hair damage and home damage (resulting from the I don't want to brush my hair tantrums).
In five different colours, you can buy as many as you'd like and there is no voucher to redeem.
Taxes are included but shipping is $6.
If this is your first purchase with Parents Canada, check the Bargainmoose forum for a coupon for an extra $2 off.
(Expiry: 30th March 2013)