Parents Canada: $11 For 2 FunBites Food Cutters - $22 Value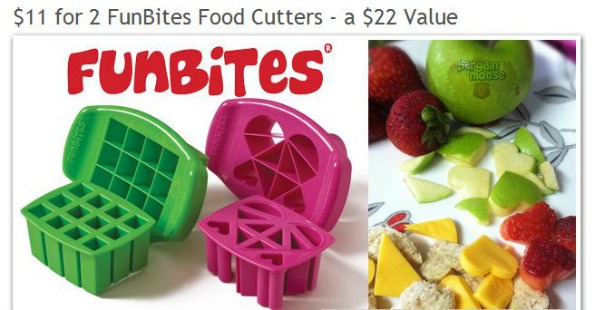 Parents Canada has an awesome deal happening right now.  You can get 2 FunBites food cutters for just $11.  The regular price of these are $22 so you will be saving 50%.
As an added bonus, for a limited time only, you can save an additional $3 off the cost with the Parents Canada promotional code 2013.  That will bring the total cost to just $8 which is awesome.
Here is a little more about this great offer:
Bite-Sized Fun Shapes
Each Pack includes a high performance curved blade cutter and a matching popper top that pops out food instantly
Funbites® is BPA FREE
Hand wash and dishwasher safe
This is a fun and handy gadget for any parent that has a picky eater at home.  The voucher will get you a set of 2 cutters total and you have until May 1st 2013 to cash in the voucher.
The cost of taxes and shipping is not included and will run anywhere between $5-$7 depending on where you are shipping it to.
(Expiry: 13th January 2013)