My Outlet Store: K'Nex Hyperspeed Hangtime Roller Coaster Building Set Was $70 | Now $35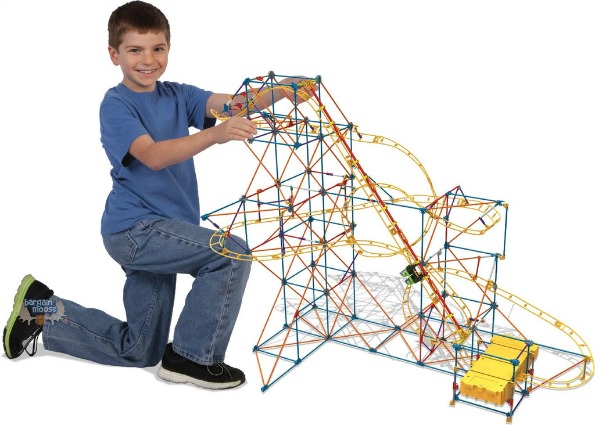 With another hot deal here from My Outlet Store, we also managed to get another exclusive for an even hotter deal! My Outlet Store is selling the K'Nex Hyperspeed Hangtime roller coaster building set for $39, while it sells for a regular price of $69.99. Add our exclusive coupon code and get an additional 10% off, to bring the price down to $35.10.
Click here to shop @ Myoutletstore.ca now
Coupon Code: KNEXMOOSE
Discount: 10% off
Expiry: Unknown
I have looked at this set probably a hundred times and wanted to get it for my kids. I love that it is a roller coaster, which my kids would love. They also love building sets and it just gives them something different to do from LEGO. With 624 pieces, this set builds up to 2.5 feet tall. I did notice that it says age 9+, and I think it is because of the delicate nature of the set.
It also includes a hanging roller coaster with little people in it, and has an inverted blaster motor to run your coaster. What's even better is that you can download instructions online to build a second type of coaster if you get bored of the first.
Just to show you this is a very hot deal, I did some comparing around at other sites. Sears sells this set for full price at $69.99. Even stores in the States sell it for about $50 to $60. Amazon has a similar set, which it is selling for $47.41 and the actual set, which it sells for $58.53. As you can, My Outlet Store far beats these prices.
Shipping is $4.95, and your extra 10% off covers that. Or, you can buy a few sets or something else and get your cart up to $75 and get free shipping.
My Outlet Store sells items for your home, plus fashion on top of the items for kids. I also see lots of KitchenAid items there. Hmmm... I wonder if we can get another exclusive to get those discounted even more? Bargainmoosers, what do you think, would you like to see deeper discounts on other items at My Outlet Store? Let us know in the comments below!