My Outlet Store: Hauck Go Kart Was $200 | Now $99 & Free Shipping With Exclusive Promo code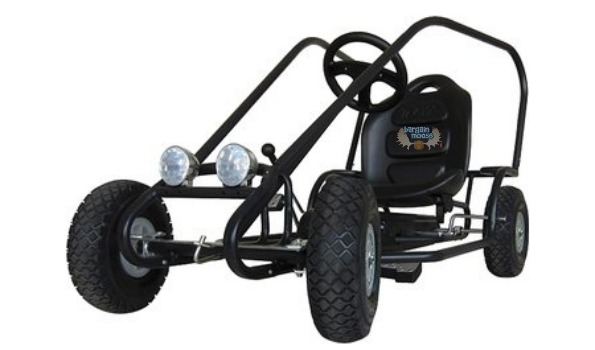 Since our deal the other day on the Melissa & Doug kitchen went so well, we decided to ask My Outlet Store for another exclusive, to make one of their hot deals even hotter. Right now they have the Hauck Hurricane go kart in a batman theme on sale for $119, from $199.99. They've also got the Hauck Thunder go kart on sale, from $249.99, down to $149. Both go carts will get $20 off with our exclusive coupon code. This means the Batman cart will only be $99, which is more than $100 off and the black go kart will come down to $129, also $100 off.
Click here to shop @ Myoutletstore.ca now
Coupon Code: KARTMOOSE
Discount: $20 off
Expiry: Unknown
Whenever a kid rides up to the park on one of these, my kids seem to turn green with jealousy. They've got a garage full of wheeled-toys, but they are in love with the idea of a go kart. At this price, how can I deny them? Paying less than $100 for an outdoor toy that will undoubtedly keep them out of my hair is priceless.
These go karts will suit kids of all ages, with a weight limit of 110 lbs and an adjustable seat. The Batman style would suit any superhero fan, especially the younger ones. The plain black looks more the style of older boys. It even has a roll cage!
I price compared around and found the Batman kart for:
I found the thunder go kart for:
The only other option I saw was a similar style of go kart, called Lightning at Toys R Us, where it sells for $149.99. But, as you can see from that link, these karts don't normally sell for under $200 and go up to as much as $500!
The reviews I found were also very encouraging, like this one from Sears:
Bought this for my sons 6th birthday. He loved it! I really like the fact that he is getting exercise while having fun. All the neighbourhood kids wait in line to take a turn. Highly recommend it!
While there is usually a $4.95 flat rate of shipping on items from My Outlet Store, these karts came up with free shipping, which is a sweet little bonus!
Don't wait to buy these, they will probably sell out quickly.