My Outlet Store Canada Coupon Code: Exclusive Baby Cargo Stroller Only $69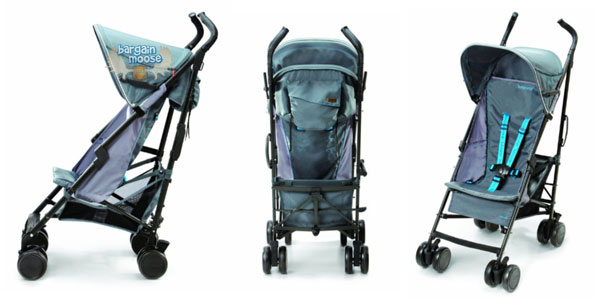 My Outlet Store is having an awesome reduction on the Baby Cargo lightweight umbrella stroller, which you can get for just $89 (reg. $109.99) but to make the deal even sweet, we have secured a Bargainmoose exclusive for an extra $20 off! This means that you can get it for just $69, which is almost 40% off the original price!
Click here to get the Baby Cargo lightweight umbrella stroller @ MyOutletStore.ca now
Coupon Code: moose_steelsky_20
Discount: extra $20 off
Expires: 10th August 2014
Weighing in at only 11.9 lbs, this super lightweight stroller is suitable for children ages 6 months and up. It's very easy to fold and can even be carried around as it features a shoulder strap. The storage basket isn't the largest but it's decent, especially considering this is a lightweight stroller. I also really like that there's no need to fuss with opening the canopy in order to see your baby as there is a see-through plastic area.
I have a monster of a stroller, the Graco Click Connect in onyx but the problem with that one and one that I didn't originally think would be an issue, is that it's just so big. I had a small Suzuki Swift of a car and it doesn't even fit into the trunk. Instead, I need to place it on the passenger seat and even that is no easy feat, especially when it comes time to take the behemoth out. Given that with the Bargainmoose exclusive, the Baby Cargo lightweight stroller comes down to just $69 definitely makes it extremely tempting to invest into a new stroller to have for riding on the subway for instance or using when we need more space in the car.
In fact, it's actually much pricier everywhere. The cheapest I have found it anywhere else is at Amazon for $130.80 but since it's available on their marketplace, there are also $15 shipping fees attached. Sears also has this same coloured one, along with one in army taffy for $139.99 and while shipping is free, it's still double in price!
Shipping isn't free at My Outlet Store either but at only a flat rate of $4.95, it still makes the stroller a much better deal than anywhere else. For more My Outlet Store coupon codes, be sure to keep an eye on the forum as you never know when we might secure another Bargainmoose exclusive! ;) In fact, you can also sign up to have all of their coupons delivered straight to your inbox as well.