My Outlet Store Canada: Avent Double Electric Breast Pump Was $290 | Now $160 (EXPIRED)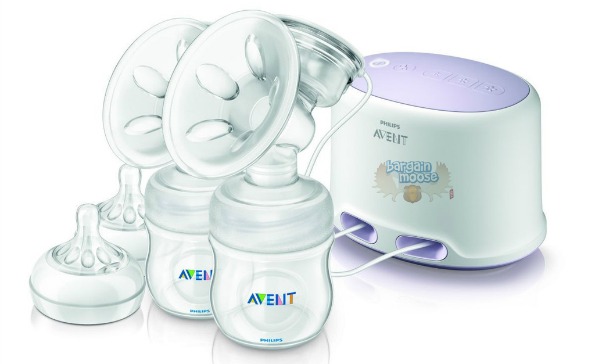 If you've got a baby on the way or you are currently breastfeeding and need to go back to work, a breast pump could be one of your best friends, or breast friend, as they say. My Outlet Store has a fantastic deal on the Avent double electric breast pump, which is regularly priced at $289.99 and now on sale for $159.
I am a huge breastfeeding advocate and my theory is that whatever gets mom to breastfeed is best. Some moms prefer to pump, some don't like pumping at all. I could not get much out, but sometimes it was a necessity. If you want to have a night out and "pump and dump" or have a night out and leave baby some food for dad to feed. If you just like having the option to feed a bottle when you want, you'll need a pump.
What's awesome about this pump is that it is a dual, which means that it will be less time for you to pump. Believe me, you want to spend less time pumping. What I found with pumping extras is that you almost always have something or someone on the breast. So, if you can reduce your time by pumping both breasts at once, you're now winning.
In the description, they also say that you don't need to lean forward, which is also nice, as you want to save your back for other things, like lifting your kids and leaning over to get the chips.
The bottles are BPA-free, as they should be. I actually remember throwing out all of my expensive Avent bottles when my son was a baby because they were not BPA-free and the story broke as to that being really bad. Avent was the brand everyone told me was the best and the main reason was that the bottles did not leak.
Shopping around, you won't find this pump even close to this price. Future Shop sold this pump for $239, where it is now sold out. Toys R Us sells it for $239.97. My Outlet Store's price is $80 cheaper than these two stores.
Not having used this pump, you could check out the reviews on the Toys R Us website, like this one:
As a breast pump novice and new mom I didn't know what to expect, but I can honestly say that this pump saved my life. I don't think I could have survived without having the option to express a bit and keep some milk so that I could have some time for myself, or when out somewhere not particularly breastfeeding friendly, but also for that last night feed to make sure our baby got enough milk in to last her through the night (otherwise she would just fall asleep on the breast without taking enough milk in).
Shipping is free for this item, which is a sweet bonus.
(Expiry: Unknown)