Millside Wagons & Accessories For Spring From $28 @ Toys R Us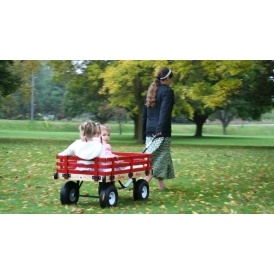 Warmer weather will arrive, I promise. When it does, there is nothing more fun than a little wagon ride for the kiddos. Honestly, my Millside Wagon has come in handy in so many ways. At the zoo it carries our supplies. For fireworks it carries my bundled up kiddo and keeps him safe in the crowds. Summer fairs, it carries the kiddo, some snacks and even whatever cute stuffies we win. If you don't have a wagon yet, then you will be happy to hear that Toys R Us Canada currently has 30% off their Millside wagons. Also accessories for the wagons starting at $27.97.
If you're in the market for one, I wholeheartedly suggest that you purchase the Millside Wooden Canada Wagon with Pads. It is the wagon I currently own, and would never buy anything else. This wagon will only run you $195.97 right now as opposed to the original price which is $279.99.
If you already have a Millside wagon like I do, then you will want to check out the accessories. Get the Sleigh Runner Conversion Kit for just $27.97. Then you can even have fun wagon rides in the snow. You can also score some half and full canopies for quite a steal too.
For shipping, some items qualify for free shipping on orders over $49 and the larger items qualify for a $10 shipping discount.
(Expiry: Unknown)