Mexx Canada Promo: $20 Off Regularly Priced Kids Merchandise Over $75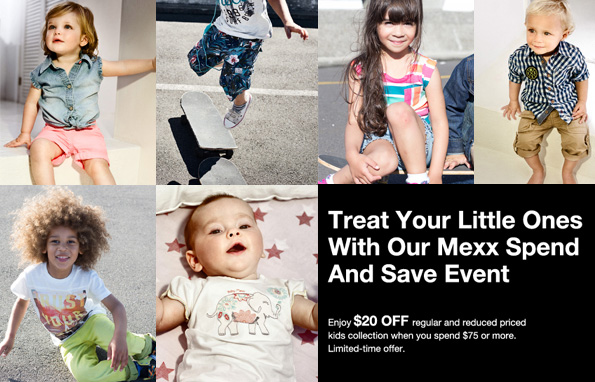 Sure, your little one(s) may outgrow their clothes faster than you can blink but it doesn't mean that you can't still get them quality apparel, especially since Mexx Canada just launched their "Spend and Save Event". Use the Mexx coupon code below to save $20 off orders over $75 of regularly priced kids merchandise.
Click here to shop the Spend and Save Event @ Mexx.ca now
Coupon Code: 75GET20
Discount: $20 off $75+
Expiry: 9th April 2014
Just in time for summer, there is plenty to choose from during Mexx's promotion. For girls, this denim romper is beyond cute! Regularly priced at $39.95, it's made entirely from cotton and comes with a lovely peach belt. With that same belt and a similar look, I also found these cotton denim pants for the same price.
And though summer may be right around the corner, we're not there yet and a coat is still much needed. In fact, this adorable pink raincoat would look even better if paired with the short floral rain boots. While the coat is $79.95, the boots are just $29.95.
As for boys, on top of a large selection of unique tees, my top picks would be the swim trunks at $24.95 along with this $26.95 baby romper with a kangaroo collar. The romper is the kind of outfit that is sure to generate even more "awwwh"s than average!
As usual, shipping s free on all purchases over $75.