Lite Brite Magic Screen $19.97 Shipped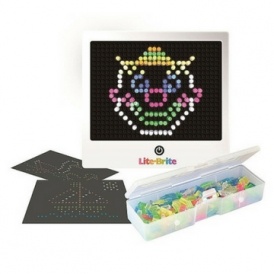 Lite Brite is back – and it's on sale! Right now at Toys R Us Canada, you can get the new Lite Brite Magic Screen for $19.97 shipped, down from $34.99!
This is one of those toys that you'll want to buy for the kids, but you know you'll end up using yourself – so why not pick one up?!
What makes this Lite Brite new and improved? The screen actually folds flat (so it'll take up way less space than the bulky ones we used to play with), it has a separate storage container for pegs, and you get four different light effects to choose from!
The kit comes with 150 pegs and six reusable picture templates. Plus, the manufacturer says this new set's pegs will actually stay in place, so I'm crossing my fingers and hoping that's true!
And until Nov. 16, 2017, all orders will ship for FREE from Toys R Us Canada. Some exceptions might apply (like items requiring scheduled delivery), but the Lite Brite Magic Screen is definitely included!