Leap Frog Canada Coupon Code: $10 Off $75 & Free Shipping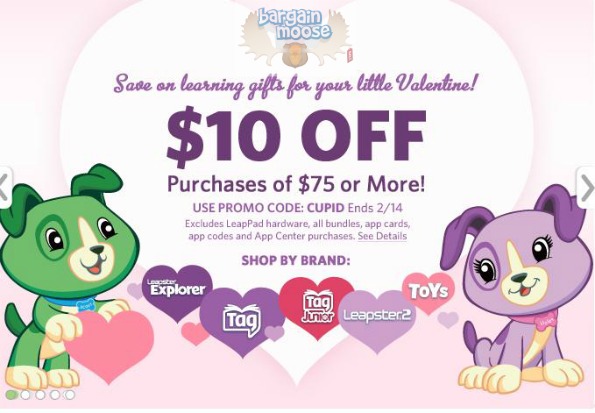 Leap Frog Canada has a coupon code out right now that will save you $10 on your purchase of $75 or more.  This deal will be on until 14th February 2012. They are also offering free shipping on all orders over $60.
Click here to use the Leap Frog Canada coupon code online
Coupon Code: CUPID
Discount: Save $10 when you spend $75
Expiry: 14th February 2012
Leap Frog is huge in my household.  We have many of their products at our house.  The best part about using LeapFrog products is that when you register with them, they can keep track of all of the leap frog toys and gadgets in your house, in your account.
From there, you can modify the products to specific kids/likes & dislikes/ages.  A favorite learning toy in our house right now is My Pal Scout $24.99.  This learning toy can be customized to fit your child's growing learning needs. We customized ours to sing our son's favorite songs, say his name and talk about his favorite things.  It was so simple and easy to do online just by following the basic instructions (sometimes I find toys complicated but this was easy).
This is a great coupon code to take advantage of for upcoming birthdays, Valentine's day and Easter.  Kids have fun learning with these toys, in my opinion.