Have You Seen The Nerf Battle Racer?! Pre-Order Now!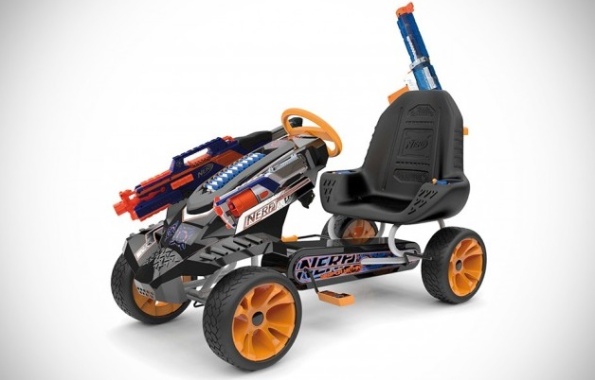 Check out this new toy! As of today, you can now pre-order the Nerf Battle Racer from Toys R Us Canada. This toy ride-on will cost you $369.99 but it looks like it could be oodles of fun. The Nerf Battle Racer has a sort of "Mad Max" style with all intentions of combining go-kart and Nerf fun. Of course, foam bullets are going to be involved with this toy. This awesome little racer is not available in many Canadian stores yet. ToysRUs.ca is the first to have it available as a pre-order, and to be honest I am quite excited about the potential of this toy.
The Nerf Battle Racer is best intended for kids between the ages of 4 and 10. This go-kart style ride-on can carry up to 4 Nerf Blasters as well as a substantial amount of Nerf Darts. You can adjust the seat for different heights of children, and the frame itself is made of a durable steel. This pedal-vehicle has forward and reverse gears and bakes of course.
The manufacturer is actually Hauck, not Nerf. But do you think this toy is actually worth the $369.99 it is listed for? I would venture to guess that the price of this Nerf Battle Racer will come down quickly as it launches at other Canadian retailers as well. Do you think I would get away with using this when the kids are asleep or away? It does look like a lot of fun.
I guess the question would be - do you allow your kids to play with Nerf Blasters? I know of a few parents who are against the entire idea because they would resemble guns or weapons. What are your thoughts on Nerf in general? Would you buy this Nerf Battle Racer?