Groupon Canada: Agoo Kids Clothing, $12 For $30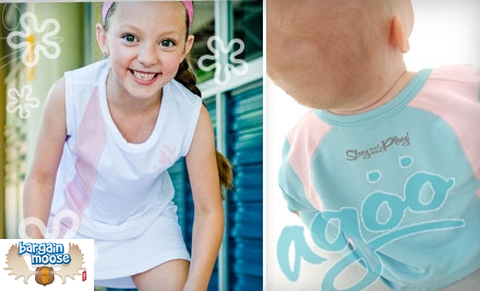 (BUMP - back today on St Catherines-Niagara groupon)
Today on Groupon Canada, there is an online offer for the Agoo kids clothing store. You can buy a voucher for $30 worth of credit, for only $12!!
Apparently you can use the voucher on either agooleggings.com or tushiehuggers.com.
The terms of using the voucher are pretty standard:
Expires Mar 6, 2011. Limit 10 per person. Limit 1 per order. 30-day return policy. Not valid with other offers.
You can also apply the Groupon voucher towards shipping costs, which is always handy.
I like leghuggers, and ones like these gigi the giraffe leggings are really cute.
As I write this, the deal is only available for another 18 hours.
P.S. For those of you who are subscribed to the Bargainmoose email updates, we can only send those out once per day. That means you might miss out on some of the shorter deals. I recommend you stop by Bargainmoose a few times a day to make sure you aren't missing out on any great offers.