Future Shop: Playstation 3 Bundle For $399.99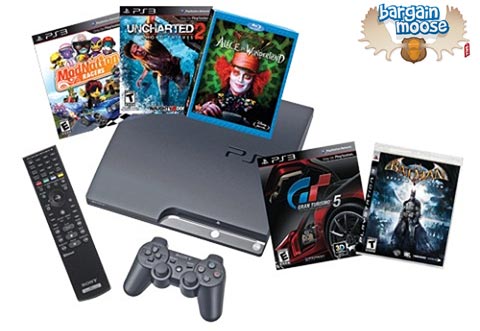 If you have been thinking about buying a PlayStation 3, Future Shop has created a bundle with $119 in savings. The bundle includes: PlayStation 3 320GB with one wireless controller, Blu-ray Remote Control, Alice in Wonderland (blu-ray movie) and 4 games (Gran Turismo 5, Batman: Arkham Asylum, Uncharted 2, ModNation Racers).
This bundle is on sale for $399.99 (reg. $519.97) until 20 January 2011. It will ship for free (free shipping on orders over $20) as an added bonus.  There is a limit of 1 per household.
The PS3 320GB console alone sells for $349.99, so you are getting some sweet add-ons for only $50 extra!
If you want a gaming system, blu-ray player, 320 GB of hardrive space for pictures, videos, games and music, as well as built in Wi-fi, this is the PS3 is for you!