Fussy Baby!? Get the Baby Einstein Sea Dream Soother Now $40 @ ToysRUs.ca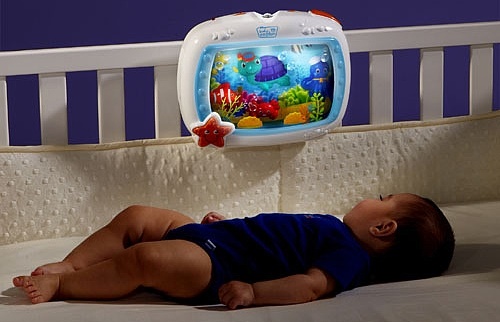 What better way to soothe your little one than a beautiful light up aquarium that plays music?! Right now you can grab the Baby Einstein Sea Dream Soother for just $39.99, which is 43% off the regular price of $69.99. Ignore the price though. Seriously, this thing is a life saver.
There's just something mesmerizing about floating fish and lullabies combined. This Baby Eintein Sea Dream Soother has adorable fish in a little aquarium that can strap to the inside of your little one's crib. My son had the Fisher Price version of this, and it truly saved my sanity several times. You can use the remote to get the aquarium to light up and play music even when you're not in the room.
That feature truly came in handy for me. Every time I would crack open my son's door to check on him, he would just become more awake and more fussy. With the remote I didn't have to necessarily enter his room every time I heard him fussing. I could click the button on the remote and listen as the blowing bubbles, fish and lullabies soothed my baby into sleep.
This adorable aquarium soother is selling for $50+ at other retailers, so not only is this item a huge life saver, but it is also the best price you are going to find right now. Spend $49 at ToysRUs.ca and you will get free shipping.
Moosers, what did you use to soother your little one in the crib?
(Expiry: Unknown)