Bonnie Togs Coupon: 20% Off $50+ (ON)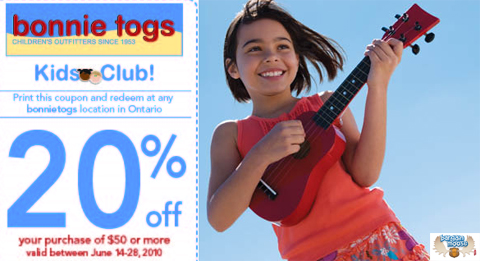 Here's a nice printable coupon for Bonnie Togs Canada, the kids clothing store. It will get you a 20% discount as long as you are spending $50 or more, in-store only.
Sadly, this coupon is only valid for those of you in Ontario. I've never actually shopped at Bonnie Togs... but I hear good things about their kids clothing. What do you think?
P.S. When you click through to the printable coupon that I have saved above, you'll notice that the quality of the text is very fuzzy. This is how it was in the original email, so not a lot I can do about it - but it is the proper coupon that they sent out.
(Ends 28th June 2010)