Best Buy Canada: Select Video Games 2 for $30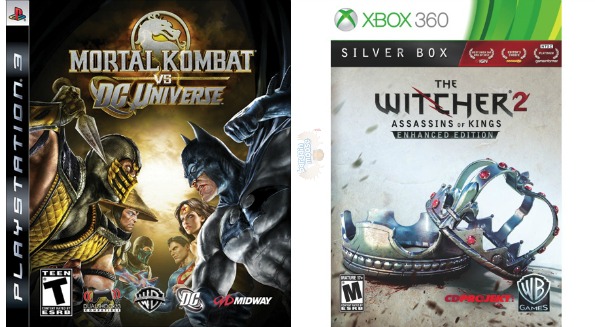 Pick up a two video games at Best Buy for $30 instead of $19.99 each. You can stack this discount, like get four games for $60 and so forth.
Mix and match titles for the Xbox 360, PlayStation 3, Nintendo Wii, Nintendo DS, Nintendo 3DS & 2DS, and Nintendo Wii U.
You will have a hard time finding these games any cheaper anywhere else unless you are buying pre-owned. The Witcher 2 : Assassins Of Kings Enhanced Edition (XBOX 360), which retails anywhere from $14.99 used up to $29.99 for a new copy comes down to just $15 new when you purchase it with another game. Pick up Mortal Kombat Komplete Edition (XBOX 360) with the above game and you will get both for $30.
I own a PS3, so the games compatible with that console interest me the most. My hubby bought me Final Fantasy XIII (PlayStation 3) when it was certainly priced higher than this. I started playing it back when I was still in school and judiciously decided I should wait until after I was done before I got too addicted. Now I am done school and going to take the game up again. I love the graphics, and while learning the controls is a bit of a steep learning curve, I cannot wait to get back into it. I even love the animated sequences with just storyline. I thought they were a bit lengthy at first but the animation is just so pretty. Pick a copy up for just $15 when you buy another game with it.
When I use to invade arcades, I would play Mortal Kombat or some knock-off version of the game. I loved each and every second of it, even if it was just smashing a whole lot of buttons and then marveling at the combo I somehow produced. I would love to try out Mortal Kombat vs DC Value (Playstation 3) not only because of my Mortal Kombat memories, but also because of my geek status. I am pretty disappointed that the Martian Manhunter is not included as a character, but I guess he was just too powerful. Pick this game up with Final Fantasy and get both of them for $30.
Mix and match your own combos based on what games you like and which games you do not own yet.
Receive free shipping on all orders of $20 or more, which means all video game combos ship for free.
(Expiry: unknown)