Baby Bahoonie Canada Coupon: Exclusive 15% Off ALL Regularly Priced Baby & Children's Clothes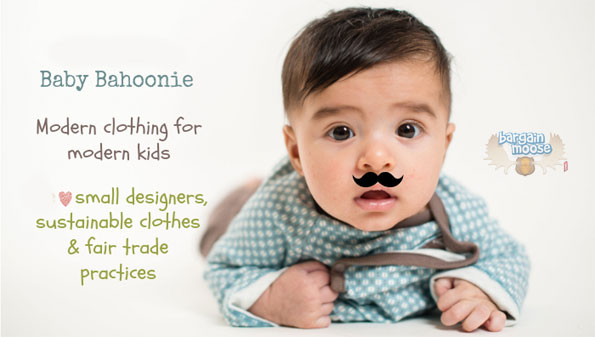 Babies everywhere watch out, because mommy and daddy are about to go on a shopping spree at Baby Bahoonie with Bargainmoose's exclusive code in hand for 15% off all regularly priced merchandise for babies and children!
Click here to shop for baby and children's clothes @ BabyBahoonie.com now
Coupon code: MOOSE15
Discount: 15% off regularly priced baby and children's apparel
Expiry: 31st December 2014
If you're expecting like I am, or even if you're planning on having a baby, I'm pretty sure you have heard the same old: "oh, don't worry about buying anything, you'll get plenty as gifts", which is great and all but what if you don't like what's given? What if you don't have that many friends to be covered for the entire first year?
Too many "what if"s" in my opinion and either way, I guarantee that you're going to want to commemorate your baby's first days, weeks and months with a medley of photo shoot sessions in the outfits that you have picked out.
From onesies to dresses, sleepers, pants, beanies, bibs, booties, blankets and so much more, Baby Bahoonie is definitely worth a peek. This beanie made from 97% bamboo, for instance, can be your baby's for just $11.90 with the exclusive (reg. $14) or what about the Bam + Boo cherry flutter dress? Cuteness overload for sure, especially since you can have it for just $28.90 instead of $34.
Baby Bahoonie also retails in clothes and accessories for boys and girls up to 4 years old, so be sure to have a peek in those categories as well. Although there are certain shipping fees attached to smaller orders, all purchases over $99 qualify for absolutely free shipping and as always, be sure to visit our forums for upcoming Baby Bahoonie coupons.
Do you have a baby on the way? Share with us his or her due date and what you would love to buy from Baby Bahoonie in the comments section! My little princess is due end of April ;)