Babies R Us Canada: 40% Off Oball Obounce Activity Center - Now $72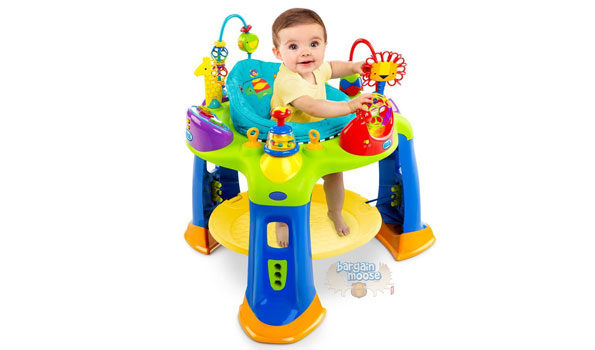 Looking for an exersaucer? The Oball Obounce activity center is currently 40% off at Toys R Us. Until the end of the week, you can get it for $71.97 instead of its regular price of $119.99.
My baby is almost four months old and I have been looking into getting an exercauser to keep her entertained during the day. Looking into activity centers, I have found that the Oball Obounce one is much loved by both babies and parents. In fact, here's a review I found on it:
I had been searching for a bouncer for my 5 month old granddaughter but they were to high up her feet did not touch the floor. I was thrilled to find this one that has the adjustable tray underneath that allows her to push herself and turn to play with the different toys. Impressed with the quantity & quality of toys with sounds that attract the baby's attention.
With more than 15 activities, lights, sounds and melodies, it features more than enough to keep baby entertained. Since my baby is destined to be tall, I particularly like that it also has 3 position height adjustment. It's even possible that some babies could be placed into it before the 4-month recommended age as the seat has a high back for superior comfort that could potentially help to support a baby's head, especially if they haven't mastered the art of holding their head.
Keep in mind that this activity center requires 6 AA batteries, but these aren't included. It can also support a baby's weight of up to 25lbs (11 kgs). Another feature that particularly caught my attention is that it can be laid flat for storage. Personally, I already have a lot of baby stock as it is, especially some that my baby has already outgrown, and anything that can be folded away for easy storage is definitely a major plus!
Shipping fees amount to $25 for this activity center but a $10 discount will be applied at checkout, which means that you will still need to pay $15. However, even with the shipping fee, this is still a better deal than it's original price, especially since it's unavailable for purchase anywhere else.