Babies R Us Canada: $100 Off Contours Options LT Tandem Stroller - Now $230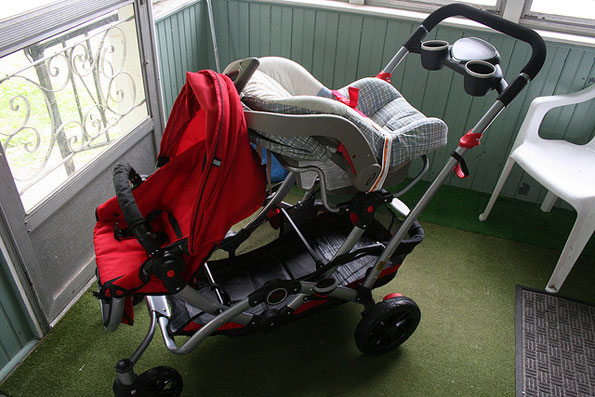 Boy am I jealous of this stroller, not only because of the price but because of all the perks! The Contours Options LT tandem stroller is currently on sale for just $229.97 at Toys R Us, which is a $100 discount from its original price of $329.99 (30% off).
Although I currently only have one baby, I'm definitely super jealous of this stroller deal because it certainly looks like a really great stroller. Available in either black or crimson red, it folds away easily and can accommodate children up to 80 lbs (up to 40 lbs per seat).
The Contours Options LT tandem stroller doesn't have the word "options" in its name for nothing as it actually has the following 6 seating options: with both children facing you, facing each other, facing forward, used with almost any cart seat or with just the front seat. Certainly very impressive, especially when you consider the fact that at its discounted price, this nifty stroller is actually the cheapest tandem stroller available at Toys R Us right now. The Baby Trend sit n stand eclipse double stroller is $269.99 but despite being a popular choice, doesn't boast nearly as many seating options as the Contours Options one. In fact, it really only feature two options: the standard one of both children facing forward or the possibility to add a car seat.
Comparing prices with other major retailers also showed me that $230 is definitely the cheapest price you can expect to pay for it right now. Amazon.ca has it in a valencia colour for $309.99, while Sears has the red one for $280.49.
Looking at Toys R Us' pictures of this stroller, I didn't expect it to have as much storage space as it does, especially with how easily it folds away but if you look at the picture above, it actually has a considerable amount of space, even with a car seat and infant seat attached. That's definitely a major bonus for grocery shopping as you can't exactly wield a shopping cart at the same time as the stroller, especially if you decide to take a stroll to the grocery store.
Another major plus that you're sure to not regret are the two cup holders. My stroller has cup holders as well and given that I'm a coffee addict, I'm extremely relieved each time that I can simply pop my Tim Hortons cup or home-brewed coffee filled tumbler directly into one of the holders. And since there are two of them just like on this stroller, hubby also gets to use one for his own drink!
Shipping is at a flat rate of $30 for this stroller but a $10 discount will automatically be deduced at checkout, which means that you will only be faced with a $20 shipping charge.
(Expiry: Abigail Batchelder)
(Expiry: 25th September 2014)