I was browsing the Babies R Us Canada website, and I spotted a few items that are good prices. These are all items for people with babies or young toddlers.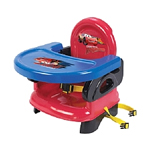 Save $10 on the Summer Infant Cars Deluxe Folding Booster (pictured right) or the Summer Infant Disney Princess Deluxe Folding Booster - they are both only $19.97. These are really cute booster seats - especially great if your toddler is a fan of that particular movie.
Save $10 on the Infantino Surfboard Tummy Time Mat in pink or blue - this is $24.47. These little mats are great - I've got a similar one for my little baby, who is just starting to appreciate it.
Save $10 on the Jungle Giraffe Band (pictured left) - now only $24.47. Looks like a nice colourful toy for little hands!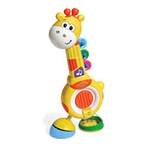 Save $10 on the Safety 1st Comfy Cushy 3-in-1 Potty - now $19.97. Oh I am not even thinking about potty training yet! But this little learning potty looks great as it is a super soft cushy seat.
Save $15 on the Evenflo Chase LX Combination Booster Seat - now only $84.97. Great for the car.
Save $20 on the Little Tikes - Wide Tracker Activity Walker - now only $19.97. I am not sure where I stand on these items... do you think they help or hinder your child's walking abilities?
Save $30 on the Chimparoo Mei-Tai - now $59.97. Seems like a nice compact little sling, though I am not sure I like how wide the baby's legs are, in the illustrating picture.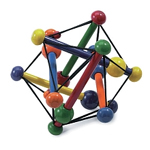 And finally, there is buy 1 get 1 half price on all their Manhattan toys. I was recently given this Skwish classic - it's a great little toy for $22.99 (pictured right)! I like natural wooden toys, and this fits the bill perfectly. My 6 week old daughter isn't really old enough to appreciate it, but in a month or two the colours and sounds will hopefully captivate her.