Agoo & Mabel's Labels Discount Offer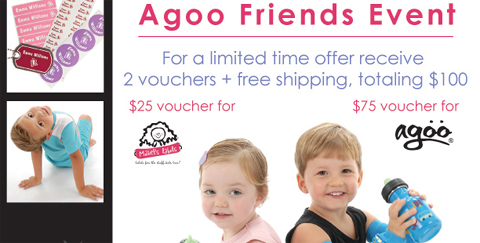 This is a joint offer from Agoo kids clothing, and Mabel's Labels Canada.
The deal is this - they are selling some gift vouchers on their site. You are purchasing a $25 voucher for Mabels Labels and a $75 voucher to spend at Agoo clothing. That's a total value of $100, but they are selling it for only $50!
This seems ideal if you have some kids in the family. You can buy the deal, then use the $25 Mabel's Labels voucher to buy a kids label pack, for when they are going back to school. You can then use the Agoo clothing voucher to buy your kiddie some new togs for the summer too.
You will also get free shipping from both sites!
Terms:
Agoo & Mabels Labels Vouchers are valid for a one time use ONLY, any remaining amounts must be used or lost at time of purchase Mabels Labels and Agoo offers FREE standard shipping within Canada. Agoo offers FREE standard shipping to the US. Mabels Labels do not offer FREE standard shipping to the US. Voucher is valid in Canada & US. Voucher or product cannot be combined with any other coupons or promotional offers. Vouchers are not for resale and are not redeemable for cash