Admiral Road Canada $5 Off Coupon Code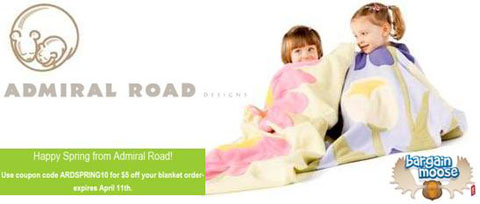 Get $5 off your Admiral Road Blanket with this coupon code.
In the spirit of true BargainMoose love, check out the Moose on the Loose Blanket.
Coupon code: ARDSPRING10
Discount: $5 off
Expires: April 11, 2010
From baby blankets to "big" blankets for kids, Admiral Road offers a wide selection of beautiful fleece blankets which you can choose to personalize. From now until April 11, use the above coupon code to take $5 off your next purchase from Admiral Road.
These fleece blankets look so comfy and warm, even if there aren't children you can buy these for, use them for movie nights on the couch.