$70 Off Evenflo Triumph LX Convertible Car Seat @ Toys R Us Canada - Now $100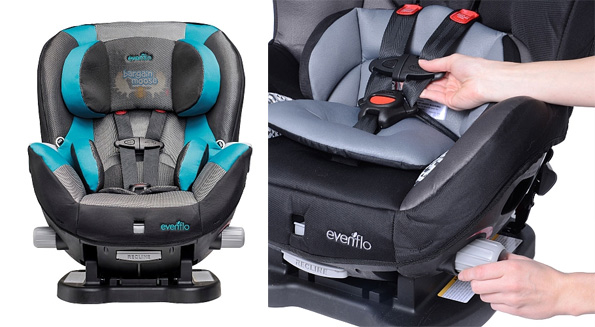 Have you been shopping around for a car seat? The Evenflo Triumph LX convertible car seat in on sale for just $99.97 at Toys R Us. It was originally priced at $169.99, which puts it at a $70 discount (over 40% off).
According to the description, it's recommended to be used as rear-facing for up to 40lbs and forward facing for toddlers between 22 and 65lbs. This isn't a recommendation I would follow too closely, except for using this car seat only until a maximum weight of 65lbs because my little one is 8 months, weighs 20lbs and yet is nowhere ready to be forward-facing as Transport Canada recommends keeping children rear facing as long as possible.
Here's a review I found for it:
I ordered this two weeks ago from toys r us. I did so much research and went and looked at many car seats but honestly wasn't impressed with any of the more expensive seats. I found them very awkward looking and not enough padding and cushion. When I saw the triumph on sale at toys r us I ordered one immediately. I love it, my husband loves it and most importantly my daughter loves it.
In short, it features:
Infinite harness slide adjustment (makes it easy to get child in/out)
5-point hardness system
TensionRight knob at the side
ReclineRight: seat is adjustable to either an up or reclined position
Adjustable headrest
Pads and pillow are both removable and washable
As for a price comparison, the Evenflo Triumph LX is nearly $145 everywhere else. Sears is selling it for $144.49, while at Costco, it's $149.99. Both websites also boast positive reviews for it, just like Toys R Us' site. Here's a review that someone posted on Costco's site:
Bought this car seat for my grandson and we have been very happy with it. The seat is comfortable and plush great for long travel trips. It's sturdy and easy to install. It fits in my small car with room for the front passenger to sit comfortably .
Since a $10 shipping discount is applied at checkout, you will only pay $8.62 to have it shipped straight to your home. It's unavailable for in-store pickup.
I also found the Baby Trend EX Flex lock infant car seat on sale for $99.97, up from $149.99. It's not a convertible car seat like the Evenflo but could be a great car seat to start out with as it's good up to 22lbs.
(Expiry: 22nd January 2015)