(65% off) Snugli Harnessed Booster Seat now only $84.31 & Free Shipping @ Shop.ca!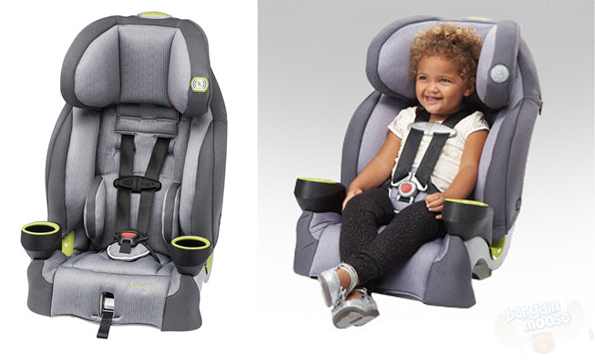 Over the weekend, we set up some absolutely fantastic Shop.ca exclusive coupon codes for Bargainmoose, with discount amounts ranging from $40 to $150, depending on how much you are spending. I had a browse round the site to see what I could see, and there are plenty of deals to be had. One item in particular is standing out to me because I was on the lookout for a deal on something similar – it's the Snugli Harnessed Booster Seat which is currently priced at $124.31 on Shop.ca, which is a 48% discount. But when you use our coupon code MOOSE40OFF100JULY to get an extra $40 off $100, the car seat drops to only $84.31, which is a 65% discount on the original price!
Remember, everything from Shop.ca comes with free shipping too! So you're looking at less than ninety bucks for a top brand name, safe, car seat for your little one. Though this Snugli car seat comes in different patterns, the deal on this one is for the pin stripe model. It's pretty gender-neutral in my opinion – you could use this for either a boy or a girl.
What I like about this seat is that it will last you for a long time, as it can be used as a harnessed booster seat as shown in the image above. But you can also remove the harnesses and use it in conjunction with your car seat belt, for when the child is a little older and bigger. The weight range for safe use of this car seat is 40 to 110 lbs, so you can see that the car seat will be useful for quite a while. My little 2 year old daughter is in a very similar seat at the moment, using the harness portion. When she's heavy enough, I can remove those harnesses and use the seat belt instead, as I did with my older daughter.
Upgrade to Camo!
If you are so inclined, you can opt for the camo pattern in the same Snugli car seat here. It's slightly more expensive, coming in at a final price of only $97.40 with free shipping, by using the coupon code above. For the sake of the extra $13, you might prefer that pattern.
(Expires: unknown)