50% Off Evenflo Triumph LX Convertible Car Seat Just $100 @ Toys R Us Canada!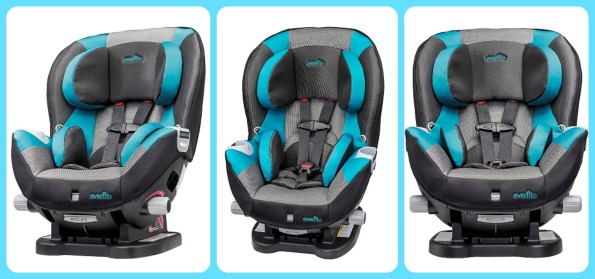 When it comes to your children, safety should be your very first concern. Have one of the safest car seats around without paying top dollar, thanks to this Toys R Us Canada promotion. Right now you can save 50% on the Evenflo Triumph LX Convertible Car Seat (Fischer) at ToysRUs.ca. That means instead of paying $199.99, you will pay just $99.97. 
This car set is perfect for all stages between newborn and booster seat age or weight. You can have it rear-facing for as long as you need, and then convert it to a forward facing car seat with ease. This seat can accommodate children between 5 pounds and 65 pounds, while most car seats like this only go up to 50 pounds. This car seat is also much more affordable than even lower quality car seats thanks to this discount at Toys R Us Canada. I mean, you can't really complain about paying under $100 for one of the safest car seats around.
Plus, there is multiple recline positions available to keep your child comfortable no matter what. During long road trips, if they fall asleep you can recline the seat backwards. If they are awake and want to view the scenery, you can sit the seat more upright. I wish I had that feature on the car seat I used when my son was little.
The Evenflo Triumph LX Convertible Car Seat sells for almost double this price at other Canadian retailers, so you can bet that you have a pretty fab deal here. Take a look at the price at some of the other stores in Canada right now:
$179.97 @ Walmart.ca
$169.99 (reg. $199.99) @ Costco.ca
$169.98 (reg. $199.98) @ BestBuy.ca
$199.99 @ Shop.ca
While Toys R Us Canada seems to advertise free shipping on orders over $49, that is not the case with this lovely deal. You will actually get a $10 discount on shipping instead, so depending on your location you can pay next to nothing for shipping. My shipping estimate within the Greater Toronto Area was just $16.21, so with the $10 discount I will pay just $6.21 for shipping which doesn't fault this deal much at all. You can also try your luck and see if your local Toys R Us store has any in stock, but expect to fight over it when you get there. Moms are like eagles when it comes to deals on these seats!
(Expiry: Unknown)