$20 in Hasbro Coupons on Popcorn Boxes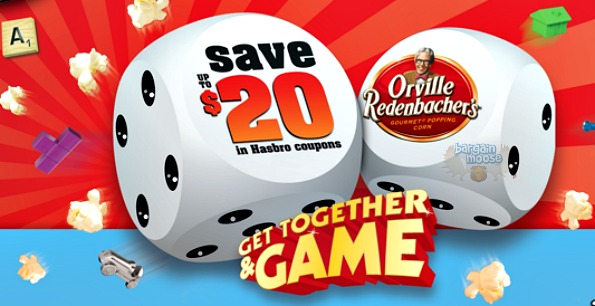 Besides shopping online with coupons codes or shopping in stores with printable coupons and mail in rebates, there is another way to save money.  A lot of products have great coupons right on their packaging to watch out for.  Right now, you can get $20 worth of coupons for Hasbro Games when you buy Orville Redenbachers gourmet popcorn.
Here is a look at the coupons you will get:
Draw Something Save $10
Jenga Tetris Save $5
Save $5 on any Hasbro game of $10+
This is the perfect time to pick up the popcorn because games are great Christmas presents to give.  You can get some movie night popcorn for yourself, and use the coupons to save on gifts or even games for yourself.
You will be able to find this popcorn at pretty much any of the local grocery stores, Walmart, some pharmacies, gas stations and anywhere else popcorn is sold.  The coupons will either be printed on the outside of the box or the inside, but the boxes will be marked so you can grab the right ones.
(Thank you to Mooser Charlene for letting us know about this deal!)
(Expiry: 31st March 2014)