Google Play Store: Android Apps and Games for 99 cents!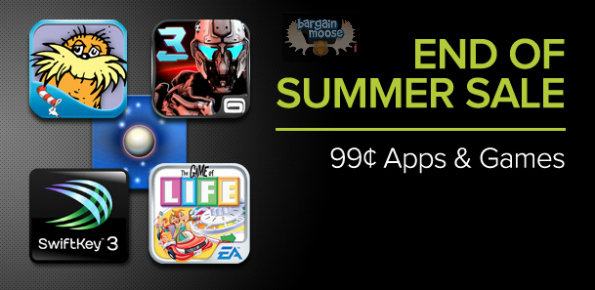 Make your Android device more fun, more productive and just more useful with some great Android apps and games in the Google Play Store.
There are 18 apps and games on sale. Here are a few:
First off I just want to note that, for whatever reason, Crystal Defenders is $1.25. Secondly, these are subject to availability and device.
I haven't played/used a lot of these but I have some experience with some of them. Some of them also have good reputations. Two such apps are SwiftKey 3 and Beautiful Widgets. There are a lof of people who have these two apps in their list of "install first" app, the apps that get put on a new phone or device right away. I don't use a lot of the widgets that Beautiful Widgets has available and I'm a Swype guy, so Swiftkey isn't really my thing. Regardless, there is a huge contingency of the Android community that loves these apps.
I mentioned that I have experience with some of these apps. The only one I actually have (I think I had the iOs version back in the days of my iSlavery) is Crystal Defenders. It is your standard tower defense game that uses character classes from Final Fantasy Tactics A2. There is some innovation to it that gives some different gameplay but all-in-all, it isn't really worth the $7.35 price tag. It is, however, worth the $1.25 price tag.
The other app that I have experience with in an indirect way isThe Lorax and Me Too! These are story books in app form. The company who makes them, Oceanhouse Media, has a ton of these books are they are really cool. You can have the book auto-read to you or you can have it act like a normal book where you read at your pace and flip the pages. You can even tap on certain words or images on the page and the app will say the word of tell you what the image is of. It's a great way to teach kids to read and teach them independence by letting them read a story all by themselves before bed.
(Expires: Unknown)