CrushEpilepsy.com: Get a Great Game for Your Mobile Device AND Donate to Fight Epilepsy for FREE!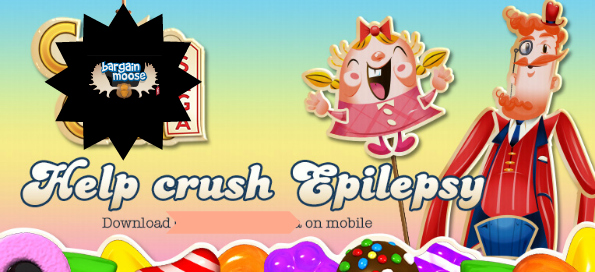 The best kind of charitable donation is the one that you don't have to pay to donate to... and the one that gives you a free game... Hmm. That sounded far more snappy in my head...
This freebie is super awesome. You visit this site on your mobile device (Android or iOS only) and you are forwarded to the Apple App Store or the Google Play store. Once you're there you will get a FREE game from the fine human beings at King.com AND $1 will be donated to the Epilepsy Foundation of America. This all happens, as I mentioned above, for FREE. You don't pay for the game, you don't pay for the donation.
A couple of things you need to know. For the donation to go through, you need to visit crushepilepsy.com on your mobile device and get the app that way. The site will automatically forward you to the Apple store or the Google store. If you just get the game through the App Store or the Play Store, you will not be making a donation. Make sure you do it on your iOS or Android device via the website.
Another thing to keep in mind is that if you have multiple Android or iOS devices (I have five Android devices, soon to be six) you can get the game and donate a dollar by visiting the site on each device. Don't just send the app to your other devices from one device or log in and get it from iTunes, make sure you visit the site on each device! While you're at it, grab the devices of other people around you and download the game for them. If they are really mad about it, they can uninstall it and you can bask in the knowledge that you forced them to donate money without them even knowing about it!
Notice how I've conveniently not mentioned the name of the game. That's because I want you to go to the website and make a FREE donation to figure out what the game is! Intriguing, isn't it!?
(Expires: Unknown)