SportChek Has Done It Again - Great Doorcrasher Deals & Hockey Gear Too!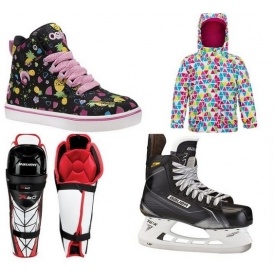 My wallet wasn't safe during this visit to SportChek for their doorcrasher sale. Of course I had to open my wallet and buy something online! I was pleased to see they have a selection of coats and jackets (is there a difference between the two?) up for grabs, too. Well, thank you Quora for the answer. "A jacket tends to be shorter than a coat."
The lowest priced item in this sale is the Bauer Vapor X60 Shin Guards and they are $27.99 down from $39.99. If your child is in hockey, you'll want to check it out for sure because I see other hockey equipment, too. There are some skates with as much as as $180 off of the regular price. There are a lot of hockey sticks, too.
These are cute shoes for girls: Osiris Sky Slim Girls' Pre-School Skate Shoes. The price is $35.99 down from $59.99.
These ladies New Balance Training Shoes are the most comfortable ones a person can ever own. It's rare for them to go on sale for as low as $69.99. The regular price is $119.99. There are a couple of different styles at this price point.
I can't believe I'm saying this but I'm seeing a Christmas present here already. This Burton Stamped Mountain Women's Hoodie is such a good price at $41.99 (down from $69.99) I'm not letting it get away from me.
I did talk about coats, and 2 McKinley coats for kids in sizes 2T - 6 are on sale. There's a style for boys and a style for girls. These are selling for $59.99 down from $89.99. You can pick from 3 different patterns for each coat.
Shipping is free on orders over $25 which is easy to do for this doorcrasher event.