SportChek Canada: Women's Merrell Sandals Only $37.49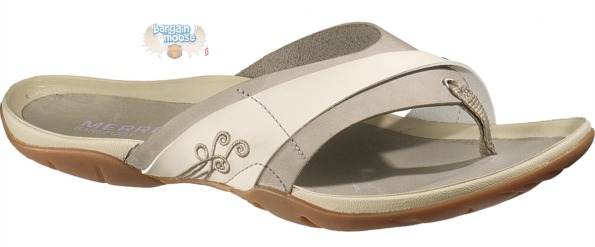 Sport Chek has an amazing 50% off deal on women's Merrell Burst Wrap outdoor sandals which are now only $37.49, previously $74.99.
I have this bad hip problem, where if I stand for too long, I want to fall over writhing in pain. Walking is fine, but just standing, especially in flats, is excruciating. I have been to massage therapy, chiropractic therapy and physiotherapy. Merrells were recommended to me as a better shoe than my flat sandals or flip flops. When I got to the store, the $80 price tag really put me off, but for the sake of will to live, I purchased them (with a coupon on top of course, although it was still a pricey shoe purchase). Since the purchase, I have noticed quite a difference in the pain, so I highly recommend Merrell as a great orthopedic shoe. When I saw this deal for only $37.49, I knew I had to blog it, and I'm thinking of checking it out for myself for a second pair of pain-relieving shoes as a backup.
In a tan and grey with cute imprint, these shoes look as great as they feel. They are lightweight, yet durable, covered with pigskin leather and treated with an antimicrobial solution to prevent odours. The 4mm compression molded midsole cushions keep your feet supported and the ball to heel to drop keeps you connected to where you are stepping.
Shipping will depend if you purchase anything else, because it becomes free at purchases over $100.
(Expiry: 23rd July 2013)