Make Your Own Shoe Sale! 25% Off @ Shoeme.ca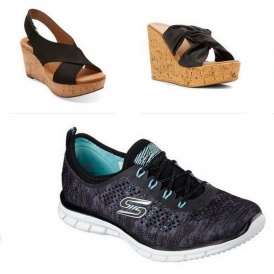 Isn't it great to be able to shop at a sale where you get to select whatever you want, to be on sale? The Shoeme.ca 25% off sale is that kind of sale! There are a few exclusions of brands and some 'fine print' - the best way to know whether or not the selected item will qualify is to make sure you have applied coupon code SUMMERVIBE first in your shopping cart in the discount code area. Then there are two ways of finding out - add the item to your cart and see if the discount shows up, or, under the 'add to cart' it will state "not eligible for discounts" if it is not applicable to this promotion. Many shoes will be able to receive the discount.
This sale is just in time for upcoming graduations and weddings. Or, for the hiking camping trip. Maybe you need better shoes for shopping at some malls this summer so your feet don't get so sore.
I headed over to the sale section at Shoeme.ca and found this Hardy Design Works Accessories Phone Case for an iPhone 6 Plus. It's real leather, and the sale price is only $12, down from $25. This phone wallet case doesn't qualify for the 25% off, but it is worth a look since it is 50% off. It's available in deep burgundy or white. There are a lot of other phone case wallets here, too, for assorted phone models such as the Samsung Galaxy 5.

Dd you know that even sale shoes are applicable to this sale? These Skechers Glider Deep Space training sneakers in a deep charcoal colour that are reg. priced at $110.00 are on sale for $94, but with your 25% off discount code, they are only $70! This makes your total discount 36% (off of the regular price.)

This is a great opportunity to pick up those shoes you've had your eye on for a while. I plan on getting the Skechers myself - they are the ones I always walk over to in the shoe stores, pick up, marvel at how lightweight they are, then set back down after seeing the price tag.
Whoa!! I just found a pair of Eileen Fisher Spree Sandals for $5 that are regularly $300. They don't qualify for the discount, but talk about a deal! They would blend well with all clothing, too.
You will be able to refine your search quickly and easily, by size, price, type of shoe, etc. to find the shoes you want. If you discover a super hot deal on Shoeme.ca, please let us know in the comments below. The site is so extensive it will be great to have extra sets of Bargainmooser eyes scouting for stellar deals!
Shoeme.ca offers free shipping on orders over $99, otherwise will start at around $9.95.
(Deal expiry: May 29, 2016)