Sandals: $1,500 Weddingmoon Credit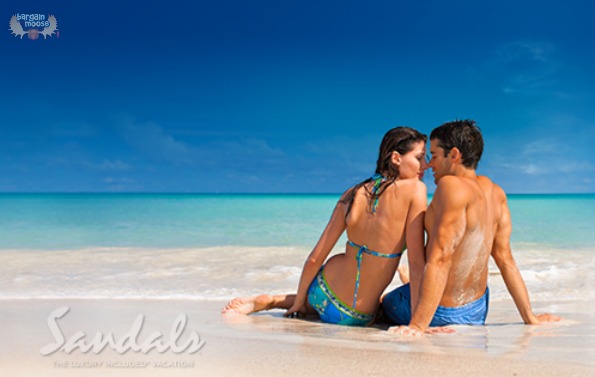 Getting married? Congratulations! My suggestion: elope to a far-away destination. Sandals is making it easy for you to do that with their Weddingmoon promotion, which gives you $1500 in credits.
I'm going to say I'm an expert on this topic because 1) I've been married twice with two different styles of weddings and 2) one of them was at Sandals. My first wedding was a fun affair, but consisted of months of stressful planning, falling-outs with family and friends because of the wedding plans and cost quite a bit. My second wedding where my husband and I ran off with two friends took literally no planning, cost me just the cost of a honeymoon and a dress and was stress-free.
Sandals really knows how to do weddings. Everything is super easy from the time you arrive at the resort. You take a look at a book to choose your location, flowers, your cake and your dinner and you book any appointments you want. Done. All included too! Now, on top of this, you'll get a $500 wedding credit, $500 jewelry credit and $500 in bonus credits. Also, things have changed since I got married and you can do this all online so you don't use any of your time away planning. It is so much fun too and almost (almost) makes me want to get married again.
Choose your destination, your theme and then you can choose your wedding items. Your $500 credit can be used to have a free beautiful beginnings wedding or can go towards a custom or pre-designed wedding theme.
Your bonus credits can be used towards side trips or fun activities, plus paying for your minister, getting a room upgrade, a honeymoon video and much more - its all your choice.
Plus, you get a $500 credit to choose jewellery, either for yourself or your guests or your spouse. I really love the charm designer and if you are a man planning this wedding, this is a gorgeous gift to give your new bride after the wedding, which she could add to with the addition of each child or on anniversaries.
I got married at Sandals Grande Riviera but they all look beautiful. Any moosers on here married at Sandals?
(expiry: unknown)