Rudsak Canada: 74% Off Cash Booties - Now $60, 35% Off Others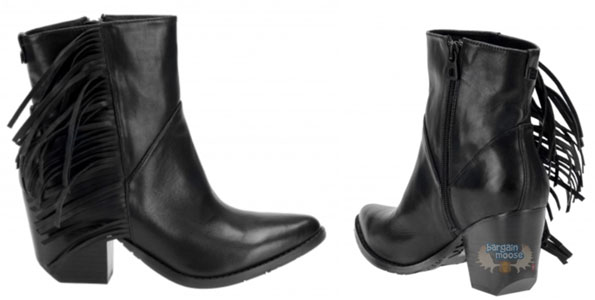 These boots are made for walkin'! Take advantage of Rudsak's extremely limited time promotion to get the Cash booties for 73% off their original price of $225. This weekend only, you can get these booties for just $59.99. There are plenty more discounted boots and booties to pick from as well.
The only drawback is that shipping is at a flat rate of $9.99, unless you shop for over $200, which will automatically qualify your order for free shipping. But even with this charge, the deal on the Cash booties is still a pretty awesome one considering that the lining is made entirely from leather, as all of the other available boots and booties are as well.
I wouldn't normally be a fan of fringe on a pair of boots but I actually do like it on the Cash booties as they add a boho touch to a classical look. Despite the blaring temperatures of summer, I love wearing a pair of boots with jeans shorts (particularly a pair of Steve Madden boots that I have and adore) and I could definitely see myself doing so with these boots. Although if they didn't have the fringe, then I definitely wouldn't wear them in such a way as they would have too much of a classical kind of style for me.
My next pick for boots to wear in the summer would be the Jeanie ones, especially since they resemble the ones I already do wear. Originally priced at $215, they're on sale for just $84.99 and also feature a full leather lining. These one actually look more summer-appropriate as well as they feature a mesh kind of material around the ankle.
Rudsak also has a couple of winter boots to choose from, such as the Begonia on sale for $199.99 (reg. $245). I know what you might be thinking: "why on earth would you buy a pair of boots smack dab in the middle of summer?". As it turns out, it's much friendlier on the wallet to shop out of season than it is to shop in season. In this case, the Begonia boots feature a leather and nylon make along with rabbit fur over-top for increased warmth. Given how slushy our Canadian winters get, I also really like that the nylon covers the shoe part of the boot to ensure that feet stay dry.
(Expiry: 3rd August 2014)