Polar Feet Softsiders (Baby Booties) only $11.19 Shipped @ Shoeme.ca!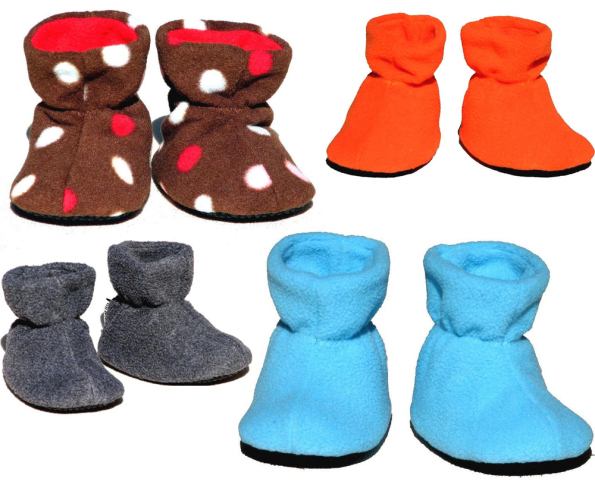 I found a super-cute range of kids' booties currently on sale at Shoeme.ca right now. The base price on this colourful footwear is $14.95. But by using the Shoeme coupon code FALL20 RADIO, you can score an extra 20% 30% discount. So for only $11.96 $11.19 including free shipping, you can get these brilliant little baby booties shipped straight to your home.
Here's a reminder of the full details of the Shoeme.ca coupon code which you will need to use to get these shoes for this price:
Coupon Code: RADIO
Discount: 30% off
Expires: Unknown
At this price, there are five colours to choose from, all pictured in the image above. I'd have to say that my favourite are the brown polka dot pair, but the bright orange comes in a close second. Here is a quick blurb to tell you all about these baby booties:
These easy pull-on booties with two layers of fleece for the warmth and comfort are perfect for your little ones. They're 100% polyester fleece for easy care, just a quick wash and dry is all they need.
They sound great. As for sizing, you can choose the following ranges:
0 to 6 months
6 to 12 months
12 to 18 months
18 to 24 months
In my experience, these are excellent little booties for the kids to wear around the house, to potter around and have comfy feet at the same time. They'd also make an excellent gift, if you're planning ahead for Christmas.
In order to price compare, I'll take a look at other online retailers to see what the price difference is on these cute little shoes. This particular Canadian brand doesn't seem to be sold at many online stores. To buy Polar Feet botties on the actual Polar Feet site itself, you're looking at a cost of $16 plus shipping on top of that. So for $11.19 including free shipping from Shoeme.ca, these little baby booties could make an excellent pressie.