Esprit Printable Coupon For 30% Discount On Anything In Store!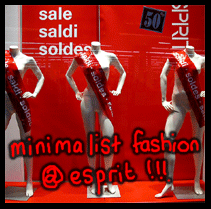 Here's another fashionable deal for you!! This weekend, you might be able to bag some bargains in store @ your local branch of Esprit Canada. If you print and present this coupon from Esprit.com, you can get 30% discount on anything in store. It actually says this on the coupon – this can be combined with other offers and promotions. That means that it will apply to sale items too!!
This printable coupon from Esprit is only valid between the 12th and 14th December 2008. Check the Esprit store locator to find a location.
While I was doing a bit of searching for blogs in Canada regarding the Esprit stores (I couldn't find much!), I did come across an interesting article on demicouture.ca regarding the comeback of fingerless gloves. I really need some new gloves, but I was actually thinking of a leather fingerless pair for driving. You know the kind I mean - kind of Lara Croft style, except I wouldn't be toting shotguns and pistols. Often.

I'm off to Esprit this weekend to search for some discounted gloves!
Thanks to x99elledge for the pic.