30% off Stonz--the Best Kids' Rain Boots Ever @ ShoeMe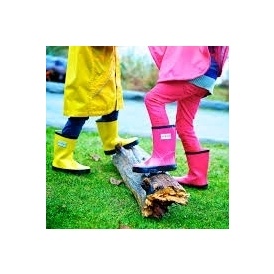 With the fall quickly approaching, you're probably starting to think about boots for the kiddos. If you've not got a pair of Stonz for your little one, you need to check them out. And, in honour of the long weekend, ShoeMe is offering 30% off their promo-eligible collection which--you guessed it--includes Stonz Rain Bootz and liners. Just enter HAPPYLABOURDAY at checkout to save.
If you don't know much about Stonz, they're a Canadian company that makes super high-quality boots for kids that you can feel good about having them wear. Their Rain Bootz are made of all-natural rubber that is PVC-free, phthalate-free, lead-free and formaldehyde-free. They're durable and tear-resistant but flexible and comfy to wear. The lining is a quick dry cotton. Soft, velour-fleece Linerz for the boots are also available to provide an extra layer of warmth for those cold, rainy days.
We were gifted a pair of Stonz and they're amazing!
Normally selling for $34.95, with the promo code, they're just $24.46. If you opt for the Linerz, their regular $18.95 price tag drops to $13.26 this weekend.
Stonz Rain Bootz come in lots of great, fun colours:
Sizes are a bit limited in some of the colours, so shop soon!
ShoeMe ships orders of $99 or more free of charge, otherwise, delivery is $9.95.
If you like this, you may like these...