New York Fries BOGO Printable Coupon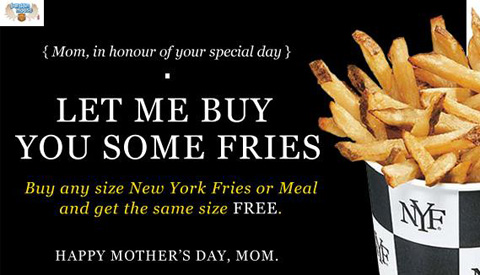 To honour Mother's Day, New York Fries will give you a second order of fries for free with the purchase of fries or meal with this printable coupon.
This is kind of a funny one for Mother's day, but here it is. A printable coupon for a free second order of fries when you order fries or a meal. Free fries must be the same or smaller sized fries as ones ordered. This coupon expires May 31st, 2010. These coupons will not be accepted at theater New York Fries locations. While I love fries, especially New York Fries, I'm still waiting on the printable coupon for free gravy from New York Fries.