New McDonald's Coupons Coming Soon!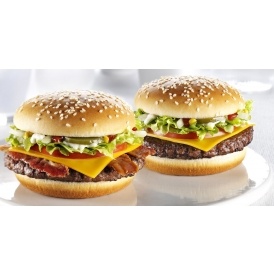 The time has finally come - those of us who enjoy a meal from McDonald's here and there will be happy to hear that their new coupons are now available for sneak peek.
The coupons can be accessed anytime as of May 9th, 2016 via the McDonald's Canada App. You don't even need to print these, you can just redeem the coupons via your mobile device. Sometimes I get lucky and the cashier doesn't click the "redeem" button, so I get to use the coupon a second time.
Here are the sneak peeks for each province:
I am in Ontario and I see several coupons that I can enjoy. I am not a big fast-food beef person - but I do enjoy the McChicken. There is a 2 Can Dine For $10.48 for the McChicken or Fish Filet. I also like that they have continued the Any Two Regular Size McFlurry For $5 - that one is my favourite from last time.
Depending on which province you reside in, the coupons will be valid from May 9th to either June 5th or June 12th. The website is currently showing us a count down to the launch of new coupons, but May 9th will be a happy day.
(Expiry: June 5th or June 12th)