Marble Slab Printable Coupon: Litre of Ice Cream For $5 (In-Store Only)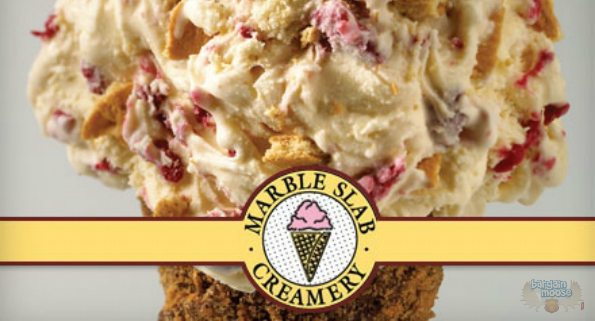 Enjoy the nice January weather with a tub of ice cream from Marble Slab Creamery!
We don't have a Marble Slab here. I mentioned this before and it stinks. It stinks now and it stunk then. Whatever. I'll live. But I'll have to live without ice cream and, really, is that living at all?
First off, since I don't have a Marble Slab here and they are all independently franchised and (I suspect) individually priced, I can't really price compare. I did a bit of looking around and it seems like the one litre tub of ice cream is usually $10+. I'm interested to hear from you fine folks - what does a one litre tub of Marble Slab cost where you are?
So the deal is for one litre of ice cream for $5. You have to get it in store and it doesn't include the mix ins. That last part, the no mix ins part, even though it makes sense, is annoying. I go to the Marble Slab competitor we have here locally specifically because it's great ice cream but the toppings are mixed in. By hand. Well, by metal spatula things that are held by hands.
I'm naturally happy and never look at the negative side of things so let's put a positive spin on this no mix-ins travesty. This way you can make your own set of heart stopping mix-ins. Got some candy canes left over? Mix in! The store bought brownies they mix in just aren't cutting it? Mix in some home made brownies! How about that puny spoonful of M&Ms they mix in? How about a whole bag of M&Ms?
What are you going to mix in? Let me know in the comments below!
For more ice creamy goodness check out BargainMoose's Marble Slab Coupons!
(Expires: 31st January 2014)